If you have ever had to hand write a whole bunch of invitations then I am sure you have had the thought "There has to be an easier way". Well, if you have Microsoft Office then you are in luck!
Here is how you can create and print your own personalized birthday party invitations in Word from a list of your friends compiled in Excel.
First, create your friends list in Microsoft Excel. It does not need to be anything fancy, just a straight list of names, but make sure you split the first and last names so you can address people by their first name if you want to add a personal note.
OK, the characters in Futurama aren't really my friends, but you get the idea, heh.
Start creating a new file in Word and select the template you wish to use. Word will download any templates you select that you haven't used before.
The template I selected allows you to print a folding invitation, so part of it is upside down. This feels a bit weird to edit but you can trust that it will come out ok on the printer!
Now go to the "Mailings" ribbon, press "Start Mail Merge", and choose "Step by step mail merge wizard"
The mail merge side bar will open on step 1 of 6. Choose the type "Letters", then click the link "Next" at the bottom
Now hit the radio button "Use the current document" and, again, click "Next".
We want to "Use an existing list", the list we created earlier in Excel, so browse for the file where you saved it on your machine and select it.
When you have browsed and found your Excel spreadsheet containing the names of your friends, choose the sheet from excel (sheet1), and click OK to load up the names into the Word "Mail Merge Recipients".
If you look at the screen grab below, this is how Word sees our friends list. We could remove some of them if we don't want to invite them to our party, by un-checking the box next to their name. Click OK when you are happy with the guest list.
To add a greeting line right before the invitation text, put your cursor above the text, and click "Greeting line" in the panel on the right of the screen.
You can customize the greeting line with various options and you get a preview before you commit yourself.
Before you complete your invites, you need to do some additional text modifications. There is some place holder text you do not want to publish (I don't know who this "Stephanie" lady is, and it's not 2004 anymore!). Click Next when you are done.
At this point you will see what the final product will look like. We can browse through the different invitations for each friend. If everything is all right, click "Next" again.
All that is left now is the final step, which is to print all the invitations!
Obviously we used an example that will be applicable to nearly everybody, but the same principle applies to all mail merges, from sales letters to other kinds of invitation.
Do you use Word mail merge? Please share your experiences in the comments …
Dear Friends,
This month Cogniview is celebrating the 4th Birthday of PDF2XL – our flagship PDF to Excel conversion product.
It's not that we always had PDF2XL. You see, Cogniview started as an Enterprise software company that aimed to sell its Enterprise-Level software products to IT departments in large organizations.
We spent a lot of money on flamboyant marketing campaigns, well-dressed sales people and a variety of other time/money wasters.
After 4 years of struggles that resulted in a huge hole in our bank account, we woke up and realized we had to survive. So we turned to our customers who said: Make us a decent PDF to Excel converter – and that was how PDF2XL was born.
Since then, PDF2XL licenses were bought by more than 15,000 companies in a variety of industries all over the globe.
We are thankful to our customers, our employees, our partners and our blog readers who have contributed their time, energy and resources to help Cogniview achieve so many successes.
So, let the party begin!
And what's a party without party gifts?
First a special Excel Productivity Guide that can help you save even more time when working with Excel.
Click here to Download the Excel Productivity Guide
PLUS…
We would be overjoyed if you would consider leaving PDF2XL a birthday greeting as a comment on this Blog post. The best 10 greetings will entitle their authors with a $15 Amazon Gift Card.
The best part is that the best greeting out of the top 10 will also win a Flip Mino camera!
So, we invite you to share your thoughts with us by leaving a comment on this post.
And once again – thank you!
Yoav Ezer, CEO
Cogniview Systems 2002
Adobe Acrobat is expensive, but that doesn't mean you have to live a life without portable documents. What many people don't realize is that PDF is a Federal Information Processing Standard, which means the specifications behind the format are widely published. Numerous developers take advantage of this fact and create programs that offer effective alternatives to Acrobat. Check out our list of these programs and take advantage of these tools that are full of some of the best PDF features and functions.
Downloadable/Online PDF Creators
These simply and emminently usable programs will allow you to quickly create your own PDFs.
Online and Desktop PDF Editors
PDF manipulation is easy and free with these tools.
PDFescape: This online PDF solution is a reader, editor, form filler, and form designer. All you need to use it is a JavaScript enabled web browser.
PDFedit: Use this editor to manipulate PDF documents, with an option to do your own scripting and plugins.
Multivalent browser: Although not a pure editor, this browser allows for minimal editing in the form of creating annotations. In addition, it includes several command-line PDF specific tools which allow for things like merging, compression, and extraction.
PDF Converters
PDF to Excel: This Windows app allows you to quickly and easily convert PDF files to Excel. It comes with a free trial and also supports scanned PDF files.
Viewers
If you need a simple way to open and read PDFs, look no further than these lightweight viewers.
Compatability
Make the PDF format compatible with HTML, XML, non-proprietary formats, and more using these tools.
Command Line Manipulation and Editing
These editors won't be used on your desktop as you would use Acrobat or any other PDF application. Rather, you can use these offerings to build into your own apps so that you can automate the PDF creation and manipulation process.
PDF Creation Libraries, Scripts and Systems
If you're a developer and you want to move beyond the capabilities of a desktop PDF creator, these libraries, scripts, and systems will help you incorporate PDF creation into your own applications.
Other Tools
Get even more function from your PDFs using these tools.
Skim: For OS X, Skim is a PDF reader with features that allow you to take notes and highlight on any PDF file.
Notepad Generator: This tool makes it easy to create a PDF notepad, and it's fully customizable.
PDFmap: PDFmap offers automated generation of interactive PDF maps.
With these tools, you should be able to go way beyond Adobe. Even better, you can do it for free and have the option to customize your experience using their open source status.
Are you working with Excel and want take your Excel skills to the next level? Or do you want to learn Excel and don't know where to start? Check out these 70+ tips and shortcuts that will help you make Excel Magic.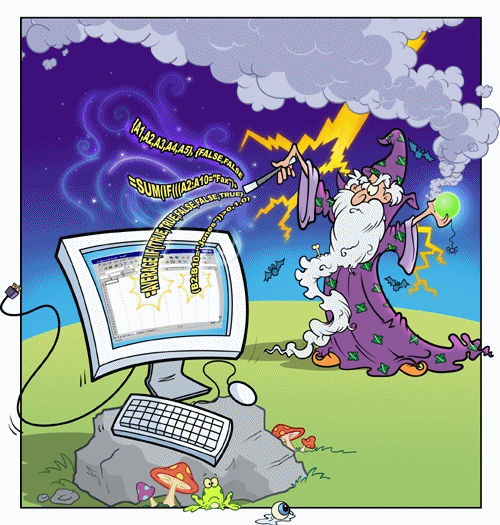 Online tutorials & videos
The following online tutorials are mostly free and will teach you quite a bit about Excel. In fact they are better than some of the expensive classroom training courses.
Online introduction to Excel: If you are just starting to use excel, this is the perfect resource for you. Here you will find dozens of audio courses that take a step by step approach to learning excel.
DataPig Technologies: The guys from Data Pig Technologies made a comprehensive collection of videos that explain almost every aspect of Excel. From basic Excel concepts to VBA programming. And most of the videos are free!
Online Charts Tutorial: Jon Peltier is an Excel-charting superstar. You can use his online tutorial to get you started on Excel charting and also as a reference.
Basic Formulas Guide: This excellent tutorial will help you master Excel formulas in no time.
Common uses for Formulas: This collection of samples will help you understand what can be achieved by using excel formulas.
An introduction to Pivot Tables: The Pivot Table is an amazing tool, but people often shy away from it because Pivot Tables seem complicated. The first page of this PDF contains a clear description of Pivot Tables and how they can be used.
Creating a Pivot table: A 7-minute video shows you how to create and work with Pivot Tables.
Pivot Tables in Excel 2007: Excel 2007 Pivot Tables are much easier to use. If you use excel 2007, check out this slightly promotional yet excellent introduction to Pivot Tables.
Practicing Pivot Tables: This step by step tutorial from Microsoft will help you sharpen your Pivot Table skills.
Microsoft Excel help / 2007: When all else fails, Microsoft Excel Help is a good source to try.
Books
In order to harness the full power of Excel, shell out a couple of book bucks. The following books are packed with information and real-world know-how.
General Excel Books
Excel Tips and case studies
Specialized Excel books
Forums, News Groups and Mailing Lists
No matter how tough or silly your question is, the experts in the following sites/mailing lists will answer it. They will do it for free and usually within a couple of hours. Don't be shy. Join these communities and ask.
Note: The online Excel community is one of the nicest communities that I have ever had the pleasure of joining.
Excel Experts
Some Excel projects are too big/difficult to tackle alone. Here is a (short) list of some of the best hired guns in the Excel Field (If you know other top-notch Excel experts, drop a link to their site in the comments).
Excel Blogs and Tip Sites
Tips sites and Excel blogs will usually send you a daily Excel tip. Many Excel professionals register to these sites and read the daily tips to keep their Excel skills sharp. They also serve as repositories for thousands of Excel case studies.
Daily Dose of Excel: A blog managed by Dick Kusleika and authored by many Excel Experts and MVPs. "Daily Dose" is updated several times a week and profiles tips, tricks and news from the excel Industry. Highly recommended!
ExcelTip.com: Over the years ExcelTip amassed hundreds of tips and solutions to real world problems. You can either use the categories or the search function to find the information you want. You can also register to a tips newsletter. The site is managed by Joseph Rubin.
Official Microsoft 2007 Blog: The Official Excel Blog. Written by the Excel product managers/programmers. It contains a lot of information and how-to articles about Excel. The level of articles on this blog varies from "useful to everyone" to "only for hardcore excel services programmers."
Vital News Excel Tips: Very similar to ExcelTip, this site contains hundreds of tips sorted into categories and offers a weekly newsletter.
Chip Pearson Newsletter: A new service from Chip Pearson. Each issue of this newsletter contains a thorough examination of a technique or of an Excel function. For those of you that wish to gain deep knowledge of Excel, this is an excellent resource.
Excel User: Excel User contains a "Visitor Question" section and many high quality articles. This site was created and maintained by Charles Kyd.
Andrew's Excel Tips: Andrew Engwirda writes one of the best Excel blogs. What separates Andrew from the flock is his vast amount of Excel and programming experience.
Codswallop: Although we are not a strictly an Excel-centered blog, we plan to bring a lot of Excel goodies in near future. Don't hesitate … subscribe now!
Smurf On Spreadsheets: Simon Murphy is an Excel programming master. If you are into Excel Programming, this blog is perfect for you.
The Ken Puls Blog: Ken's blog is neither Excel centered nor frequently updated. However, when Ken does blog about Excel, it's pure gold. Definitely worth checking out.
XL Dennis: Dennis Wallentin writes about developing Excel centered solutions with the .Net framework.
Excel Hero: Daniel Ferry's blog is full of Excel tips and advanced topics intended to inspire you and make you the Excel Hero at your workplace.
Excel Templates
Templates can be a huge time saver and odds are that the spreadsheet you are trying to build already exists. We've divided Microsoft's huge template repository into useful categories so you'll be able to find the right template for you.
Business Related Templates
Other Templates
All Kinds of Lists: Phone List, Grocery List, Reading List, Gift List and much more.
Planning Templates: Business and personal planning templates.
Schedules: Schedule templates for your employee shifts, business and personal events.
AdditionalTemplate Sites
Vertex42 Excel Templates: Dozens of Excel templates. Some even come with a user manual.
OZGrid Excel Templates Page: Another big and famous collection of templates.
Excel Tools
Excel is the ultimate killer app. But there are cases where even Excel needs a little help. Here are some Excel Add-ins that can double your effectivness.
Additional Excel Resources
Now it's time to Excel.
Freelancers often have to wear many hats: accountant, boss, quality control, marketing department, and beyond, which can leave you feeling like there's just not enough time in the day to do everything you'd like. Fortunately, there are a number of tools designed to help you speed up the process of working. Check out these productivity boosters for documents, communications, and more.
Email
Email itself is a productivity tool, but it often turns into a monster task that must be tackled. These tools will help you tame your inbox.
Instant Messaging
IMs are a convenient communication tool, and there are a number of ways to improve their functionality. Read on to find out how you can share documents, schedule meetings, and send SMS messages using IMs.
Word
For most users, Word is a fairly simple tool to use, but when you're drowning in lots of documents, revisions, and lots of editing, it can be a mess. Clean it up with these Word boosters.
Bookmark this article at del.icio.us »
We all have our own unique ways of working. A large part of any persons individual productivity is the tools they use. Here is my top 10 Must Have Tools (and why), please add yours in the comments!
OK, I have shown you my must-have tools, what do you use on a daily basis and why? Let me know in the comments …
Project management has been given a huge boost by internet tools. The biggest improvements for me came from the fact we can collaborate so easily across geography, time zones and computing platforms.
Now though we have grown with the web technologies to the point where we have tailor-made services plus innovative ways of using other tools that work very well but were never intended to be used that way.
The most prominent of these latter categories of tools are blogs. Blogs are easy to set up and use, can be secured with simple password protection or hosted behind corporate firewalls.
Check out these ways blogs might be used for project management:
Progress Report Blogs – A large part of project management is communication, and blogs are an obvious way of communicating with a project team. Team members can follow progress by visiting the blog, subscribing via RSS or with email updates. Messages can be categorized, so for example a programmer can take note of just the technical bulletins and requirements updates. This opt-in method has the benefit people are not barraged by unwanted and distracting emails.
Discussion Blogs – If feedback or a consensus is required the comment area can be called into play. This has the added benefit of centralizing discussions with an audit trail; you can see who said what and when.
File Store Repository – Upload files to share with the team. Keep all versions up to date, especially useful when items are being revised and there could be many versions to keep track of. This could be updated project plans, specs, software, contracts, timesheets …
Multi-Media Knowledge Base – Once you are using the web you have all the web has to offer to utilize. Rather than all text all the time, why not demonstrate and explain using audio, video, and interactivity? For example you might deploy a new software release and explain how it works with a video screen cast walk-through.
Team Blogs – Most blogging software will allow you to register users and give them appropriate permissions. The simplest permission you will want to give is the ability to comment. Thinking further though you might want them to post their own content. Each team member could then be given their own category or even own blog, allowing each to provide progress reports and gather feedback on their own tasks and requirements. Rather than having lengthy progress meetings and conference calls you could minimize the need by checking all the feeds.
Documentation Blog – A lot of knowledge can go astray in a large project, particularly when files and notes are spread over a large team, in different systems, random chats, ad-hoc emails, and worse, between team members ears. Using a central blog can aggregate all this knowledge and an easy to search and back up store. Using the power of categories and tags it can all be organised and retrieved by any interested party.
RFC Blog – One challenge that can quickly get out of hand in larger projects is runaway changes. You get stopped in the halls for a chat, think "that's only a small request, sure." and next thing you know there are cascading changes erupting all over the project. Use your blog as a Change Request Log. As changes come in they are posted up on the blog for all to see. Before any actions all members get to investigate possible knock-on effects before sign off.
Blogs are such an easy tool to deploy, and are so flexible, they can be brought into projects and used tactically without much bother. Add to this the extensibility, the plugin architecture and easy customization, they can be a real boon to many projects.
These are the roles I can related about using blogs in a project but there might well be uses I have missed. What other uses can you think of? Are there any downsides? Do you have good links for further reading? Let me know in the comments …
Few things are more irritating than having to deal with a format that is incompatible with what you need it to do. It doesn't matter if it's a media file, document, or shoe size; it's just plain frustrating. To make your life easier, check out this list of 101 tools that will allow you to convert just about anything.
Original Art by Bob Ostrom
An important message: This list of converters took a very long time to prepare and I hope that it will be of use to you. If you find it useful and would like us to prepare more lists like this, please take a look at our commercial software. It's not suited for anyone, but if you work in a business environment and receive a lot of data in PDF format then our PDF to Excel distiller might be just what you are looking for. Thank you.
Mega Tools
There are lots of specialized tools out there, but sometimes you just need one good tool to get the job done. These mega tools are great for general conversions.
Media
If you use an MP3 player, download movies, or even just rip CDs, there's a good chance you've had to deal with the frustration of having a format that's incompatible with your device or software. These tools will make it all better.
Audio
Video
Images
Graphic designers, professional photographers, and point and shoot enthusiasts can all benefit from using these easy image conversion tools.
Documents
These tools make it easy to read and print all sorts of documents, so you can avoid having a difficult discussion with your boss about why you just can't open his MS Works 1996 file.
PDF
Word Processing
Excel
Excel to PDF Converter: This spreadsheet converter is very simple. All you do is select "Save as PDF" in Excel, and the converter will create a document that can be read by PDF viewers.
XLS Converter: You can use this converter to take data from Excel files and turn them into formats like HTML, TXT, and CSV. It can be run in command-line mode, plus Excel isn't required for it to work.
ABC Amber Excel Converter: With the ABC Amber Excel Converter, you can turn Excel files into PDF, HTML, RTF, DOC and more, all without the use of the MS Excel program. This tool offers command line support and batch conversion as well.
PowerPoint
Presentation to Video Converter: If you're tired of manually clicking through PowerPoint slides during presentations, you can convert them into a video that eliminates the need for your interaction.
Convert PowerPoint: With Convert PowerPoint, you can turn PPT files into PDF, HTM, TXT and more. This application can be run on a command line.
Drafting
Other Great Document Tools
International Standards
These conversion tools are useful whether you're traveling, baking, or just buying some nice Italian shoes on eBay.
Measurements
Currency
Google Search: You can use Google to calculate currency conversions as well as units like gallons and liters. It's great because you can get an answer by using a nationality if you don't know the name of the currency.
Universal Currency Converter: XE's UCC performs forex rate calculations with live currency rates. They offer conversions for the top 85 currencies in the world as well as special units and precious metals.
Clothing Sizes
Time
Time Conversion Tool: This utility from NASA makes it easy to convert from calendar dates and times to Julian dates, or vice-versa. You can also convert between featured world time zones and figure out what day of the week you're looking at.
Time Zone Converter: Use this tool to convert time zones between two cities. It accepts dates for the past or future.
Web Development
These tools are great for converting between different script languages, databases, and more.
Mobile Tools
These tools let you create ringtones for your device and convert while you're on the go.
Bookmark this article at del.icio.us »
That headline makes a bold promise, doesn't it? Creativity, note-taking and productivity? Mind Mapping really is that useful. Read on and I will explain!
What Are Mind Maps?
Mind Maps are a visual diagram with lines and bubbles representing ideas and relationships between them. The core idea sits in the middle with related topics branching out from it. Ideas are further broken down and extended until your page looks like an impressionist painting of a spider colony.
That is my description. Here is a video direct from the source!
Why Are Mind Maps Useful?
There are lots of reasons Mind Maps beat other note-taking methods, not least of which I find drawing Mind Maps fun, here are some more serious reasons.
Mind Maps are fast to create and no effort is wasted
Hierarchy and categorization are visually and clearly defined
Rather than writing out lots of superfluous words only the key ideas are represented.
As well as using words you can draw symbols and diagrams to illustrate ideas
You can read back a Mind Map at a glance, jumping right to the part you need
What are Mind Maps Useful For?
In the headline I mention three categories that Mind Maps can be used for, let's look at some examples:
Brain Storming – Mind Maps allow us to quickly get ideas from our heads and down on paper. Another benefit is they lend especially well to free-association. By recording then reviewing rapidly and freely generated ideas we can find connections and new relationships between concepts that we otherwise might have missed. Of course drawing your ideas is also ideal for staying in a creative mode where more logical and rigid methods might take us off track. Put your central theme or goal in the middle then add ideas or thoughts around it, further adding or relating concepts as you go.
Note Taking – As you listen to a lecture or read a book you can very quickly create notes using a Mind Map. You can use large branches for chapters or key points, with detail added from them. A whole book can be summarized on one page and it is remarkable how well you can recall the information later with only the map as a guide. This method is used by Sean D'Souza for his book reviews, an example of which can be found here for his review of The Long Tail. LifeHacker did an excellent piece on using Mind Maps for taking notes at meetings.
Productivity- I would argue that if you can generate ideas and take notes quickly and effectively you are already more productive, but Mind Maps also help in other areas of business.

Planning can be helped a great deal with Mind Maps, in one diagram you can represent everything that needs doing, the relationships between tasks (eg. what has to be done before something else can be), and the relative priorities.
I have used Mind Maps many times for outlining reports, books and talks. Even a couple of times using the Mind Map itself as my only notes to read from.
When building a website now I always use a Mind Map to plan the site categories and content.
There is an interesting description of three categories of Mind Maps at the "Beyond Mind Mapping" blog.
Mind Mapping Software
Traditionally Mind Maps were drawn with coloured pens and paper. Tony Buzan recommends you use at least three colours. Of course computer technology has become a more popular method, bringing in searching, import/export and archival benefits, and since the rise of the web the ability to collaborate over distances.
More packages are listed and reviewed at a blog all about Mind Mapping software.
Summary
You might tell I am a Mind Map fan! Do you ever use Mind Maps? Have any links you can share? Let us know in the comments …