Dear Friends,
This month Cogniview is celebrating the 4th Birthday of PDF2XL – our flagship PDF to Excel conversion product.
It's not that we always had PDF2XL. You see, Cogniview started as an Enterprise software company that aimed to sell its Enterprise-Level software products to IT departments in large organizations.
We spent a lot of money on flamboyant marketing campaigns, well-dressed sales people and a variety of other time/money wasters.
After 4 years of struggles that resulted in a huge hole in our bank account, we woke up and realized we had to survive. So we turned to our customers who said: Make us a decent PDF to Excel converter – and that was how PDF2XL was born.
Since then, PDF2XL licenses were bought by more than 15,000 companies in a variety of industries all over the globe.
We are thankful to our customers, our employees, our partners and our blog readers who have contributed their time, energy and resources to help Cogniview achieve so many successes.
So, let the party begin!
And what's a party without party gifts?
First a special Excel Productivity Guide that can help you save even more time when working with Excel.
Click here to Download the Excel Productivity Guide
PLUS…
We would be overjoyed if you would consider leaving PDF2XL a birthday greeting as a comment on this Blog post. The best 10 greetings will entitle their authors with a $15 Amazon Gift Card.
The best part is that the best greeting out of the top 10 will also win a Flip Mino camera!
So, we invite you to share your thoughts with us by leaving a comment on this post.
And once again – thank you!
Yoav Ezer, CEO
Cogniview Systems 2002
Here is the unbelievable story … Last Thursday (03/28/2008) a newspaper called "Zimbabwe Online" published an article accusing my company (Cogniview) of helping Robert Mugabe, The infamous Zimbabwean president, rig the Zimbabwean elections.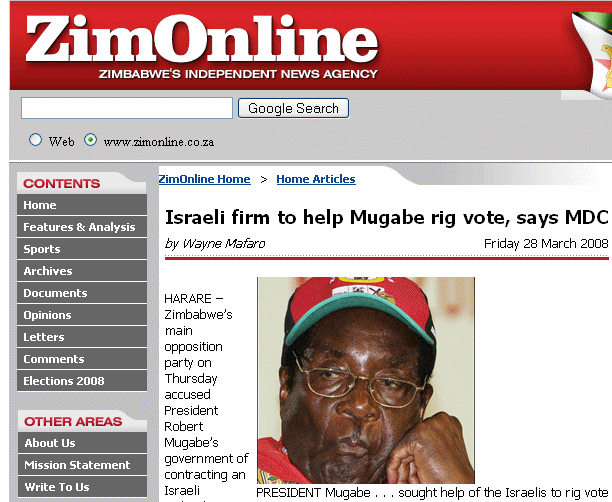 Link to full story
The article continues to claim that my company has secret ties to the Israeli Mossad, and that the accusations came directly from the General Secretary of the MDC, Zimbabwe's largest opposition party.
Before I go on with the details of the story, here's my official response … this story is NOT TRUE. In fact it could have only been more fictional if we were accused of using alien technology. Here are some more facts:
We have no ties with Robert Mugabe's party. We have never met or dealt in any way with him or any of his people.
We have no connections to the Israeli Mossad.
No Cogniview employee has ever been to Zimbabwe.
The full story up until now…
On Wednesday, a day before the article was published, I received an email from a Yahoo email address, inquiring whether my company was helping Robert Mugabe win the upcoming Zimbabwe elections. The email was so funny, I assumed it was spam and deleted it (not before being very impressed with how well it was tailored for my company).
A day later, an email from the site ZimOnline alerted me that there was an article on the site that concerned Cogniview. The article was even funnier than the email. At this point my respect for the Zimbabwean scam-artists was at an all-time high. Not only did they send me a well crafted email, they went as far as to setting up a mock newspaper and publishing an article there.
And then it became very serious very quickly …
I was contacted by a gentleman called Phil Matibe, a human rights activist from Zimbabwe currently living in the US, who wanted to get to the bottom of this story (I will be speaking with Mr. Matibe later today).
We also started getting emails from angry people telling us that we "sold the Zimbabwean people for 20 pieces of silver"
And then additional articles began to appear. Apparently we got 3 million dollars for helping Mugabe.
What I think happened
About a year ago we developed an Open-Source PDF converter called CC PDF converter. This converter (which is available for download for anyone that has an internet connection) allows one to convert anything printable into PDF. It also allows adding a Creative Commons license as the last page of the document. And at the very end of this page there is a link to Cogniview's website.
I also learned (from the people that called to chastise us) that the voter-roles that were provided to the MDC by Zimbabwean officials were in PDF format and had a link to Cogniview's website.
My guess is that the people at the MDC wanted to get the voter data in a format they could easily handle (like Excel) and instead got it in a PDF file (that was produced by our converter). They got (justifiably) angry and concocted a story about the Israeli Mossad and my company (this part isn't justifiable).
Here's what we are willing to do to help sort out this mess
Every respectable party (UN, US, European) that will want to investigate this matter will get Cogniview's full cooperation. We will give them unlimited access to our legal and financial Records. We will also allow them to interview any employee in the company. Heck, they can strap us all to lie-detectors – we have nothing to hide.
But I'm hoping it won't come to this. This story has the potential to damage my company's reputation as well as to seriously damage the credibility of the MDC officials who spread this lie.
One last thing: If anyone from the MDC is reading this, please check your facts and denounce these lies. They bring you no honor.
I will continue to update as the story unfolds.
Adobe Acrobat is expensive, but that doesn't mean you have to live a life without portable documents. What many people don't realize is that PDF is a Federal Information Processing Standard, which means the specifications behind the format are widely published. Numerous developers take advantage of this fact and create programs that offer effective alternatives to Acrobat. Check out our list of these programs and take advantage of these tools that are full of some of the best PDF features and functions.
Downloadable/Online PDF Creators
These simply and emminently usable programs will allow you to quickly create your own PDFs.
Online and Desktop PDF Editors
PDF manipulation is easy and free with these tools.
PDFescape: This online PDF solution is a reader, editor, form filler, and form designer. All you need to use it is a JavaScript enabled web browser.
PDFedit: Use this editor to manipulate PDF documents, with an option to do your own scripting and plugins.
Multivalent browser: Although not a pure editor, this browser allows for minimal editing in the form of creating annotations. In addition, it includes several command-line PDF specific tools which allow for things like merging, compression, and extraction.
PDF Converters
PDF to Excel: This Windows app allows you to quickly and easily convert PDF files to Excel. It comes with a free trial and also supports scanned PDF files.
Viewers
If you need a simple way to open and read PDFs, look no further than these lightweight viewers.
Compatability
Make the PDF format compatible with HTML, XML, non-proprietary formats, and more using these tools.
Command Line Manipulation and Editing
These editors won't be used on your desktop as you would use Acrobat or any other PDF application. Rather, you can use these offerings to build into your own apps so that you can automate the PDF creation and manipulation process.
PDF Creation Libraries, Scripts and Systems
If you're a developer and you want to move beyond the capabilities of a desktop PDF creator, these libraries, scripts, and systems will help you incorporate PDF creation into your own applications.
Other Tools
Get even more function from your PDFs using these tools.
Skim: For OS X, Skim is a PDF reader with features that allow you to take notes and highlight on any PDF file.
Notepad Generator: This tool makes it easy to create a PDF notepad, and it's fully customizable.
PDFmap: PDFmap offers automated generation of interactive PDF maps.
With these tools, you should be able to go way beyond Adobe. Even better, you can do it for free and have the option to customize your experience using their open source status.
Few things are more irritating than having to deal with a format that is incompatible with what you need it to do. It doesn't matter if it's a media file, document, or shoe size; it's just plain frustrating. To make your life easier, check out this list of 101 tools that will allow you to convert just about anything.
Original Art by Bob Ostrom
An important message: This list of converters took a very long time to prepare and I hope that it will be of use to you. If you find it useful and would like us to prepare more lists like this, please take a look at our commercial software. It's not suited for anyone, but if you work in a business environment and receive a lot of data in PDF format then our PDF to Excel distiller might be just what you are looking for. Thank you.
Mega Tools
There are lots of specialized tools out there, but sometimes you just need one good tool to get the job done. These mega tools are great for general conversions.
Media
If you use an MP3 player, download movies, or even just rip CDs, there's a good chance you've had to deal with the frustration of having a format that's incompatible with your device or software. These tools will make it all better.
Audio
Video
Images
Graphic designers, professional photographers, and point and shoot enthusiasts can all benefit from using these easy image conversion tools.
Documents
These tools make it easy to read and print all sorts of documents, so you can avoid having a difficult discussion with your boss about why you just can't open his MS Works 1996 file.
PDF
Word Processing
Excel
Excel to PDF Converter: This spreadsheet converter is very simple. All you do is select "Save as PDF" in Excel, and the converter will create a document that can be read by PDF viewers.
XLS Converter: You can use this converter to take data from Excel files and turn them into formats like HTML, TXT, and CSV. It can be run in command-line mode, plus Excel isn't required for it to work.
ABC Amber Excel Converter: With the ABC Amber Excel Converter, you can turn Excel files into PDF, HTML, RTF, DOC and more, all without the use of the MS Excel program. This tool offers command line support and batch conversion as well.
PowerPoint
Presentation to Video Converter: If you're tired of manually clicking through PowerPoint slides during presentations, you can convert them into a video that eliminates the need for your interaction.
Convert PowerPoint: With Convert PowerPoint, you can turn PPT files into PDF, HTM, TXT and more. This application can be run on a command line.
Drafting
Other Great Document Tools
International Standards
These conversion tools are useful whether you're traveling, baking, or just buying some nice Italian shoes on eBay.
Measurements
Currency
Google Search: You can use Google to calculate currency conversions as well as units like gallons and liters. It's great because you can get an answer by using a nationality if you don't know the name of the currency.
Universal Currency Converter: XE's UCC performs forex rate calculations with live currency rates. They offer conversions for the top 85 currencies in the world as well as special units and precious metals.
Clothing Sizes
Time
Time Conversion Tool: This utility from NASA makes it easy to convert from calendar dates and times to Julian dates, or vice-versa. You can also convert between featured world time zones and figure out what day of the week you're looking at.
Time Zone Converter: Use this tool to convert time zones between two cities. It accepts dates for the past or future.
Web Development
These tools are great for converting between different script languages, databases, and more.
Mobile Tools
These tools let you create ringtones for your device and convert while you're on the go.
Bookmark this article at del.icio.us »
The CC PDF Converter is a free (open source) application that enables you to create PDF documents from almost any application (Word, Excel, Internet Explorer and more). The CC PDF Converter also allows you to easily embed a creative commons license in your PDF file.
If you find any bugs or have any suggestions, I would really appreciate it if you leave them as comments on this post.
I can also be contacted through my email (see the About the author page).
One last thing… If you enjoy the CC PDF Converter and you also need to extract data from PDF files to Excel than I would be honored if you could take a couple of minutes to check out our commercial product. It is a professional PDF to Excel conversion utility which is used by over 10,000 companies around the world. If you decide to get PDF2XL you'll be saving a ton of time on PDF data conversion and helping us create more open source tools for PDF users.
I am pleased to announce that Cogniview has achieved the rank of Microsoft certified partner. We were always putting off becoming a certified partner because it seemed to be a big hassle. We were right about that. We had, however, an ace in the hole that I wasn't aware of: you, the customers.
Our customers deserve the credit for our becoming a certified partner. It seems that if you have a product that is used by thousands of customers, you just fly through the product-certification tests (we submitted our PDF-to-Excel conversion product).
The best part was the testimonials. As an ISV, you are required to submit customer testimonials to Microsoft and have the customers who gave those testimonials approve them. It took us just three hours to get approval for our testimonials. The speed with which the approval came moved me.
Thank you, dear customers.
Here are a couple of pictures of the gang and PDF2XL with the goodies that you get from Microsoft.