If you have ever had to hand write a whole bunch of invitations then I am sure you have had the thought "There has to be an easier way". Well, if you have Microsoft Office then you are in luck!
Here is how you can create and print your own personalized birthday party invitations in Word from a list of your friends compiled in Excel.
First, create your friends list in Microsoft Excel. It does not need to be anything fancy, just a straight list of names, but make sure you split the first and last names so you can address people by their first name if you want to add a personal note.
OK, the characters in Futurama aren't really my friends, but you get the idea, heh.
Start creating a new file in Word and select the template you wish to use. Word will download any templates you select that you haven't used before.
The template I selected allows you to print a folding invitation, so part of it is upside down. This feels a bit weird to edit but you can trust that it will come out ok on the printer!
Now go to the "Mailings" ribbon, press "Start Mail Merge", and choose "Step by step mail merge wizard"
The mail merge side bar will open on step 1 of 6. Choose the type "Letters", then click the link "Next" at the bottom
Now hit the radio button "Use the current document" and, again, click "Next".
We want to "Use an existing list", the list we created earlier in Excel, so browse for the file where you saved it on your machine and select it.
When you have browsed and found your Excel spreadsheet containing the names of your friends, choose the sheet from excel (sheet1), and click OK to load up the names into the Word "Mail Merge Recipients".
If you look at the screen grab below, this is how Word sees our friends list. We could remove some of them if we don't want to invite them to our party, by un-checking the box next to their name. Click OK when you are happy with the guest list.
To add a greeting line right before the invitation text, put your cursor above the text, and click "Greeting line" in the panel on the right of the screen.
You can customize the greeting line with various options and you get a preview before you commit yourself.
Before you complete your invites, you need to do some additional text modifications. There is some place holder text you do not want to publish (I don't know who this "Stephanie" lady is, and it's not 2004 anymore!). Click Next when you are done.
At this point you will see what the final product will look like. We can browse through the different invitations for each friend. If everything is all right, click "Next" again.
All that is left now is the final step, which is to print all the invitations!
Obviously we used an example that will be applicable to nearly everybody, but the same principle applies to all mail merges, from sales letters to other kinds of invitation.
Do you use Word mail merge? Please share your experiences in the comments …
Dear Friends,
This month Cogniview is celebrating the 4th Birthday of PDF2XL – our flagship PDF to Excel conversion product.
It's not that we always had PDF2XL. You see, Cogniview started as an Enterprise software company that aimed to sell its Enterprise-Level software products to IT departments in large organizations.
We spent a lot of money on flamboyant marketing campaigns, well-dressed sales people and a variety of other time/money wasters.
After 4 years of struggles that resulted in a huge hole in our bank account, we woke up and realized we had to survive. So we turned to our customers who said: Make us a decent PDF to Excel converter – and that was how PDF2XL was born.
Since then, PDF2XL licenses were bought by more than 15,000 companies in a variety of industries all over the globe.
We are thankful to our customers, our employees, our partners and our blog readers who have contributed their time, energy and resources to help Cogniview achieve so many successes.
So, let the party begin!
And what's a party without party gifts?
First a special Excel Productivity Guide that can help you save even more time when working with Excel.
Click here to Download the Excel Productivity Guide
PLUS…
We would be overjoyed if you would consider leaving PDF2XL a birthday greeting as a comment on this Blog post. The best 10 greetings will entitle their authors with a $15 Amazon Gift Card.
The best part is that the best greeting out of the top 10 will also win a Flip Mino camera!
So, we invite you to share your thoughts with us by leaving a comment on this post.
And once again – thank you!
Yoav Ezer, CEO
Cogniview Systems 2002
In this series we have already looked at Recency, Frequency and Monetary value as metrics for data mining and ranking your customers in Excel. RFM will tell you who the most rewarding customers are, but it will not tell you who is most-likely to be a tough customer, nor will it tell you how expensive those customers are.
To work out these additional factors, you need to record more data, and that is what I will reveal in this article.
Customer acquisition costs are familiar to any business but many companies do not track individual customers support costs and instead see customer service as an aggregated expense. This is a mistake because certain customers could be costing you more money than they bring in, meaning gaining more of these customers would actually hurt your business rather than help it. Another reason why "make it up in volume" is often a bad approach!
Depending on your systems you might be able to record support incidents either by counting "tickets", or you might even be able to record time spent. Again, just like with the customer value, you want to use recency and frequency, although in this case high recency and frequency are "bad"!
What would you use instead of monetary value or margin? Well, in some cases you can place a cost on the total support a customer required. It's not just a factor of time, although that is a cost worth recording, but also there may be additional expenses incurred such as travel, postage, returns, waste, custom work or additional purchases. A customer who demands you turn up at their offices hundreds of miles away with a brand new custom widget is going to be more of a financial burden than one who sends one email and receives a stock answer.
Along with customer ID, you will want to record the type of customer or the product/service the support was against. If customers have multiple products then do the exercise against customer initially but also run through another process for product or service.
Often, but not always, you will find the customers with the best RFM scores are also those who cost you least in customer support. The top 20% really are your best customers overall. Over and over the customers who pay you least are also the ones who cause you the most bother. Of course there is always the high-roller exception who is just demanding because, well, they can.
A friend around the millenium had a software product with service levels. Together we turned the business from a net loss into a hugely profitable company by first systemizing customer service, and then by removing the bottom rung of the offering entirely. We found the cheap product attracted customers who were both more likely to circumvent the copy protection, but also generated the bulk of the distractions in the form of groundless complaints, returns, support problems and bad PR.
You do not need fancy systems to keep this information. Using Excel you can record your customer service data very easily. Just make sure you record at least:
Customer ID
Date/Time
Product/Service
Problem Type (categories, such as "fault", "usage", etc)
Problem Description
Solution
Solution Type (categories, such as "replacement", "FAQ", etc)
Boilerplate solution available (Y/N)
Resolved Date/Time
You might well have suggestions or requirements for additional data, but essentially you want to know what the problem was, the cure, how long you spent solving and who for.
Once you have your data you can see if there is a way to make these problems go away, perhaps the issue is with documentation or customer expectations rather than product quality. If the problems can't go away entirely, you can then work on making your customer service as easy as possible, with stock responses, procedures, and other systems. Of course failing all that, you are left with dropping the product, customer (or type of customer) or raising prices.
Bottom line, without data you would only be guessing. So long as you have actionable information then you can actually make some decisions. If you are not recording support information, you had better get started!
Our Excel cheat sheet seems to have been a hit with readers so far. If you haven't grabbed it yet, you can still download it for free.
So many people told me that they struggle and fight with Excel I thought I would offer you the opportunity to decide what should go in the next one! I will do my hardest to get answers for all the best or most popular questions.
Is there something you would like to be able to do with Excel?
What area of Excel do you want to get more out of?
Are you confused with anything Excel related?
What would you find most helpful to know about?
Have you got a Excel problem you need a solution for?
If there was one thing about Excel you would like to learn, what would it be?
Just add your suggestion, question, idea or problem in the comments.
Also if you particularly like a suggestion anyone else makes, just point it out in the comments too!
We have Excel experts on hand to supply me with the answers, so get asking your Excel questions in the comments
I don't use Excel very often so when I do I have to remember or research all the keyboard shortcuts and functions that I normally use, even the most basic ones.
Rather than keep writing and losing post-it stickies I thought I would put this cheat sheet together, and because I figured I wouldn't be alone in this, I thought I would share it with you too.
This cheat sheet shows the major keyboard shortcuts and a list of useful formula functions. Stick it up near your monitor so you will never need to Google that keyboard shortcut again!
Download the Free Excel Cheat Sheet
Excel is a powerful numbers tool, no question. Most of the time when we talk about spreadsheets we are focusing on the mathematical side, rather than how the results look.
Thing is, spreadsheets are a tool for creating content to be read also. In fact, I would go as far as to say a spreadsheet is an influential tool of persuasion, when used correctly.
On top of that, many business rely on Excel for their business forms, such as invoices, expenses, time sheets and all kinds of paperwork.
It is possible to not only have your spreadsheets make you more productive, but also look good.
In this series I want to show you how you can beautify your spreadsheets without requiring any real design skills.
Formatting Reports With Spreadsheets
Although the features available in the latest software surpass anything that came before, this use of spreadsheets is not a new thing, can you remember the old Lotus 123 and Supercalc days?
Even back then, spreadsheets were used to make data more presentable, more professional, and less, well, like it had come straight off a music-ruled dotmatrix report, which was often the main alternative.
Of course back then a lot of the data was retyped, causing inevitable transcription errors. Now Excel can read in data exported from numerous systems natively, and also understand common open formats, even down to interrogating live databases directly through ODBC.
So this is not just about spreadsheets you create form scratch, Excels presentation abilities can help you with presenting any kind of data that Excel can import.
Things have come a long way. In the past you were pretty much restricted to having lines, boxes, bold and italic. If you were lucky. Now Excel has features only previously found in desk top publishing packages.
Excel's graphic features are both a blessing and a curse.
Yes, you have a huge amount of freedom and functionality to create the look you want, but the downside is a lot of people over use these features and make their spreadsheets look like a Nascar, and reports appear to be a page from a comic book.
Let's focus on some basics!
10 Tips for Avoiding Excel Formatting Horrors
Excel Design Tip 1: Less is More
When working with the formatting and design features of Excel please do not treat it like a kid in a candy store!
Restraint is important if you want to provide the best possible result.
Excel Design Tip 2: Comic Sans has no place in business
Sometimes I wish I could build a time machine so I could go back to whichever lunatic was presiding over the meeting when Microsoft decided to bundle Comic Sans with their operating system and give them a sound thrashing.
Ahem.
If there is one thing that will reduce the professionalism of your spreadsheet it is the inclusion of any kind of comic font, but in particular Comic Sans. Just don't.
Excel Design Tip 3: WordArt can kill your design
WordArt is a nice and flexible feature that has been an addition of Office for years. Many people are comfortable with it. But does it ever look cheesy! Just look at the header image of this article – geeky, no?
You know where we agreed restraint was important a few paragraphs ago? That goes one hundred fold for when using WordArt. In fact, if in doubt, leave it out!
Excel Design Tip 4: Clipart Clichés
Photography or illustration can bring a page to life and stop it being a sea of text and numbers, but if the clipart looks over-used, out of place, hackneyed or just plain BAD, then you are only doing damage. I would recommend instead of the default clipart to look to outside sources such as Istockphoto, but there is a similar risk in using those also!
Excel Design Tip 5:  Careful with colors
Color is essential in aiding clarity of your data, providing of course you are going to view the spreadsheet on screen or your printer can output color. What often happens though is people get carried away and the end
result is a rainbow mess of clashing, garish, neon. Excel is not the best at allowing color flexibility, so make the best of a bad set of colors by selecting muted tones that go well together, such as grays and blues.
Excel Design Tip 6: Templates are your friend
Rather than starting from scratch, especially if you are design challenged like me, consider trying one of the many freely available pre-built templates out there. You can find everything from invoices to timesheets. There is a great list in our Excel Wizardry article.
Excel Design Tip 7: Use grid lines selectively
Just because you are working in a spreadsheet does not mean you have to show your grid lines. In many cases it is easier to only add the lines that aid legibility, and switch off all othes. In Windows you can find the option to turn off gridlines in the view tab, or in older versions tools, options. In Mac, look in the preferences.
Excel Design Tip 8: Background images can lift or distract
A tasteful background image can work well. Unfortunately all too often the images used are busy, detailed and when combined with columns of numbers, just make your eyes water. Go for something plain and delicate, such as a subtle graduated tint or a slight drop shadow..
Excel Design Tip 9: Align your text
Another legibility tip is for you to not just accept Excels defaults when working with your text. For example did you know you can format your cells and select to align your text at the top and to wrap around?
Excel Design Tip 10: Use appropriate font sizes
Your basic font needs to be large enough to be legible without an electron microscope, plain enough to read (step away from the "handwriting" font!), and there should be a clear visual hierarchy. What do I mean by that? While most people in their wordprocessor will use headlines and subheads, for some reason fewer people think to do this in a spreadsheet, but breaking up a report in this way can really help get your point across. So if you are using 10-12 point body text you might make your subhead 14-16pt and your main headline 18pt.
Summary
Yes, much of this will be seemingly obvious, but if you go into any Excel using business I guarantee at least one and probably more of these excel formatting crimes are being committed right now.
Got Excel design tips? Please share in the comments, and look out for part 2 of this series!
Are you working with Excel and want take your Excel skills to the next level? Or do you want to learn Excel and don't know where to start? Check out these 70+ tips and shortcuts that will help you make Excel Magic.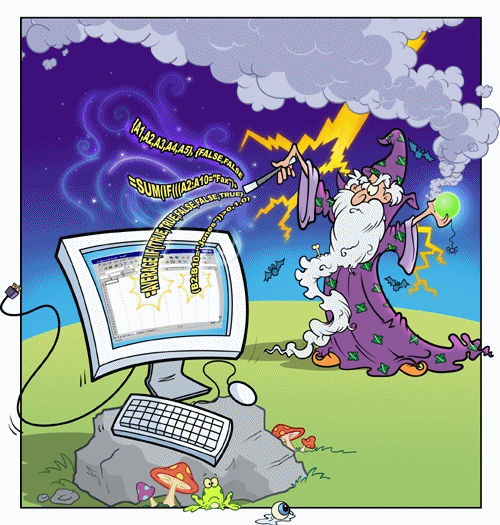 Online tutorials & videos
The following online tutorials are mostly free and will teach you quite a bit about Excel. In fact they are better than some of the expensive classroom training courses.
Online introduction to Excel: If you are just starting to use excel, this is the perfect resource for you. Here you will find dozens of audio courses that take a step by step approach to learning excel.
DataPig Technologies: The guys from Data Pig Technologies made a comprehensive collection of videos that explain almost every aspect of Excel. From basic Excel concepts to VBA programming. And most of the videos are free!
Online Charts Tutorial: Jon Peltier is an Excel-charting superstar. You can use his online tutorial to get you started on Excel charting and also as a reference.
Basic Formulas Guide: This excellent tutorial will help you master Excel formulas in no time.
Common uses for Formulas: This collection of samples will help you understand what can be achieved by using excel formulas.
An introduction to Pivot Tables: The Pivot Table is an amazing tool, but people often shy away from it because Pivot Tables seem complicated. The first page of this PDF contains a clear description of Pivot Tables and how they can be used.
Creating a Pivot table: A 7-minute video shows you how to create and work with Pivot Tables.
Pivot Tables in Excel 2007: Excel 2007 Pivot Tables are much easier to use. If you use excel 2007, check out this slightly promotional yet excellent introduction to Pivot Tables.
Practicing Pivot Tables: This step by step tutorial from Microsoft will help you sharpen your Pivot Table skills.
Microsoft Excel help / 2007: When all else fails, Microsoft Excel Help is a good source to try.
Books
In order to harness the full power of Excel, shell out a couple of book bucks. The following books are packed with information and real-world know-how.
General Excel Books
Excel Tips and case studies
Specialized Excel books
Forums, News Groups and Mailing Lists
No matter how tough or silly your question is, the experts in the following sites/mailing lists will answer it. They will do it for free and usually within a couple of hours. Don't be shy. Join these communities and ask.
Note: The online Excel community is one of the nicest communities that I have ever had the pleasure of joining.
Excel Experts
Some Excel projects are too big/difficult to tackle alone. Here is a (short) list of some of the best hired guns in the Excel Field (If you know other top-notch Excel experts, drop a link to their site in the comments).
Excel Blogs and Tip Sites
Tips sites and Excel blogs will usually send you a daily Excel tip. Many Excel professionals register to these sites and read the daily tips to keep their Excel skills sharp. They also serve as repositories for thousands of Excel case studies.
Daily Dose of Excel: A blog managed by Dick Kusleika and authored by many Excel Experts and MVPs. "Daily Dose" is updated several times a week and profiles tips, tricks and news from the excel Industry. Highly recommended!
ExcelTip.com: Over the years ExcelTip amassed hundreds of tips and solutions to real world problems. You can either use the categories or the search function to find the information you want. You can also register to a tips newsletter. The site is managed by Joseph Rubin.
Official Microsoft 2007 Blog: The Official Excel Blog. Written by the Excel product managers/programmers. It contains a lot of information and how-to articles about Excel. The level of articles on this blog varies from "useful to everyone" to "only for hardcore excel services programmers."
Vital News Excel Tips: Very similar to ExcelTip, this site contains hundreds of tips sorted into categories and offers a weekly newsletter.
Chip Pearson Newsletter: A new service from Chip Pearson. Each issue of this newsletter contains a thorough examination of a technique or of an Excel function. For those of you that wish to gain deep knowledge of Excel, this is an excellent resource.
Excel User: Excel User contains a "Visitor Question" section and many high quality articles. This site was created and maintained by Charles Kyd.
Andrew's Excel Tips: Andrew Engwirda writes one of the best Excel blogs. What separates Andrew from the flock is his vast amount of Excel and programming experience.
Codswallop: Although we are not a strictly an Excel-centered blog, we plan to bring a lot of Excel goodies in near future. Don't hesitate … subscribe now!
Smurf On Spreadsheets: Simon Murphy is an Excel programming master. If you are into Excel Programming, this blog is perfect for you.
The Ken Puls Blog: Ken's blog is neither Excel centered nor frequently updated. However, when Ken does blog about Excel, it's pure gold. Definitely worth checking out.
XL Dennis: Dennis Wallentin writes about developing Excel centered solutions with the .Net framework.
Excel Hero: Daniel Ferry's blog is full of Excel tips and advanced topics intended to inspire you and make you the Excel Hero at your workplace.
Excel Templates
Templates can be a huge time saver and odds are that the spreadsheet you are trying to build already exists. We've divided Microsoft's huge template repository into useful categories so you'll be able to find the right template for you.
Business Related Templates
Other Templates
All Kinds of Lists: Phone List, Grocery List, Reading List, Gift List and much more.
Planning Templates: Business and personal planning templates.
Schedules: Schedule templates for your employee shifts, business and personal events.
AdditionalTemplate Sites
Vertex42 Excel Templates: Dozens of Excel templates. Some even come with a user manual.
OZGrid Excel Templates Page: Another big and famous collection of templates.
Excel Tools
Excel is the ultimate killer app. But there are cases where even Excel needs a little help. Here are some Excel Add-ins that can double your effectivness.
Additional Excel Resources
Now it's time to Excel.
Freelancers often have to wear many hats: accountant, boss, quality control, marketing department, and beyond, which can leave you feeling like there's just not enough time in the day to do everything you'd like. Fortunately, there are a number of tools designed to help you speed up the process of working. Check out these productivity boosters for documents, communications, and more.
Email
Email itself is a productivity tool, but it often turns into a monster task that must be tackled. These tools will help you tame your inbox.
Instant Messaging
IMs are a convenient communication tool, and there are a number of ways to improve their functionality. Read on to find out how you can share documents, schedule meetings, and send SMS messages using IMs.
Word
For most users, Word is a fairly simple tool to use, but when you're drowning in lots of documents, revisions, and lots of editing, it can be a mess. Clean it up with these Word boosters.
Bookmark this article at del.icio.us »
Few things are more irritating than having to deal with a format that is incompatible with what you need it to do. It doesn't matter if it's a media file, document, or shoe size; it's just plain frustrating. To make your life easier, check out this list of 101 tools that will allow you to convert just about anything.
Original Art by Bob Ostrom
An important message: This list of converters took a very long time to prepare and I hope that it will be of use to you. If you find it useful and would like us to prepare more lists like this, please take a look at our commercial software. It's not suited for anyone, but if you work in a business environment and receive a lot of data in PDF format then our PDF to Excel distiller might be just what you are looking for. Thank you.
Mega Tools
There are lots of specialized tools out there, but sometimes you just need one good tool to get the job done. These mega tools are great for general conversions.
Media
If you use an MP3 player, download movies, or even just rip CDs, there's a good chance you've had to deal with the frustration of having a format that's incompatible with your device or software. These tools will make it all better.
Audio
Video
Images
Graphic designers, professional photographers, and point and shoot enthusiasts can all benefit from using these easy image conversion tools.
Documents
These tools make it easy to read and print all sorts of documents, so you can avoid having a difficult discussion with your boss about why you just can't open his MS Works 1996 file.
PDF
Word Processing
Excel
Excel to PDF Converter: This spreadsheet converter is very simple. All you do is select "Save as PDF" in Excel, and the converter will create a document that can be read by PDF viewers.
XLS Converter: You can use this converter to take data from Excel files and turn them into formats like HTML, TXT, and CSV. It can be run in command-line mode, plus Excel isn't required for it to work.
ABC Amber Excel Converter: With the ABC Amber Excel Converter, you can turn Excel files into PDF, HTML, RTF, DOC and more, all without the use of the MS Excel program. This tool offers command line support and batch conversion as well.
PowerPoint
Presentation to Video Converter: If you're tired of manually clicking through PowerPoint slides during presentations, you can convert them into a video that eliminates the need for your interaction.
Convert PowerPoint: With Convert PowerPoint, you can turn PPT files into PDF, HTM, TXT and more. This application can be run on a command line.
Drafting
Other Great Document Tools
International Standards
These conversion tools are useful whether you're traveling, baking, or just buying some nice Italian shoes on eBay.
Measurements
Currency
Google Search: You can use Google to calculate currency conversions as well as units like gallons and liters. It's great because you can get an answer by using a nationality if you don't know the name of the currency.
Universal Currency Converter: XE's UCC performs forex rate calculations with live currency rates. They offer conversions for the top 85 currencies in the world as well as special units and precious metals.
Clothing Sizes
Time
Time Conversion Tool: This utility from NASA makes it easy to convert from calendar dates and times to Julian dates, or vice-versa. You can also convert between featured world time zones and figure out what day of the week you're looking at.
Time Zone Converter: Use this tool to convert time zones between two cities. It accepts dates for the past or future.
Web Development
These tools are great for converting between different script languages, databases, and more.
Mobile Tools
These tools let you create ringtones for your device and convert while you're on the go.
Bookmark this article at del.icio.us »
Current process
In a previous post, I said that we would be developing a new purchase-order tracking system in Excel 2007. I started by interviewing the customers. I sat down with Inbal, our "accounting department," and this is what she said …
"Today, we have a licenses management solution [Nick named Hendrix]. Every purchase is entered into Hendrix, and the customer then receives an automated e-mail from Hendrix with his payment code and download and activation instructions."
"When a purchase order arrives, it is entered into the system, so that a license will be issued to the customer. I also manage an Excel sheet with a list of POs to track."
Here is a sample of the Excel sheet that Inbal uses:
"Purchase orders are not paid immediately; they usually have net or net+30 payment terms. it's my job to see that all the payment orders are eventually paid," Inbal added.
"So, every week, I single out the POs that have not been paid, and according to how late the payment is, I either send an e-mail or mail, or I call the customer. When a purchase order is paid, I update the tracking sheet to reflect that, this way I know not to bother the customer."
Users' requirements
I then asked her what she would like to the tracking system to do.
"I need to be able to define contact details for both customer and end user," Inbal said. "This is because sometimes (especially with POs), the customer's accounting department is ordering the software for their users. So I need to send the download and activation instructions to the user and work with the accounting department on payment issues. In any case, the customer has to be notified about the delivery of the software as well as the user.
"I want to be able to define the due date for each PO (net, net+30, etc.)."
"I want to get a weekly report of all the purchase orders that should have already been paid. If possible, I want to get it by e-mail."
"When closing an order, I need a place to enter the payment date and some sort of transaction ID (check number, bank transfer ID, etc.)."
And that was it.
If you have any ideas on how to make this system better, please, pretty please … add them as a comment to this post.